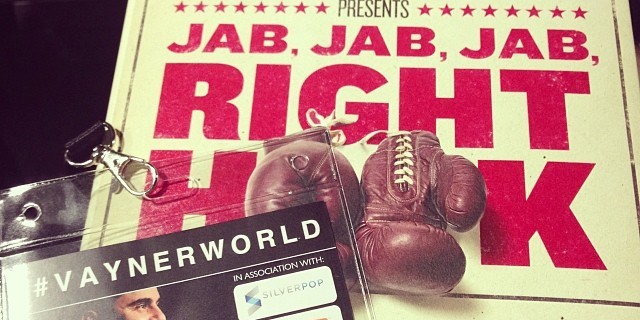 Gary Vaynerchuk in London
Last night I went along to the Islington Design Centre to see Gary Vee talk. I've followed Gary for a few years and always liked his brash and blunt opinions on how simple social media actually is but still people choose to get it wrong.
Rather than him talking, like I've seen him do in videos from other events this was a Q&A. This worked perfectly for someone like Gary, every reply giving the person asking more than they probably expected. From actual business advice to suggestions on where to go and how to solve a particular problem. This really showcased Gary's main point of the evening and what his new book – Ja, Jab, Jab, Right Hook is about – the how rather than the why, the practical manual of execution rather than (another) book on the theory.
He stated that theories and ideas can be right, but they're nothing without execution. Success is based on the execution.
Another point he hammered home in the responses to a couple of the questions from the floor was to also go outside of your box, know your audience (the actual audience, who is buying, not necessarily the one your told about from an expensive survey to a small sample) and find ways to build on that outside of the directly obvious. You can find people talking about your brand or your niche but what else do those people talk about, go out there and find relevant connections.
He had the great example of Michelin – the tyre people. How they started the Michelin restaurant guide to get people driving more. People won't need new tyres unless they're wearing out the ones they have, so how do you get them using them? Recommend restaurants that are out the way, give people a reason to drive. That's where the Michelin Stars come from, a brand that wanted people to use their cars more.
There were several agency people in the room who asked questions which meant we got some insight into the agency Gary set up – Vayner Media. This seemed to be built out of opportunity, at the time (and still) Gary saw vast amounts of money being spent on quirky websites and then more money spent on driving people to those sites, he was a guy who knew how much it cost to create something like Foursquare. He's now been taking social business from many of the big players – Ogilvy, Edelman, Wieden – and they're not their small brands with the likes of – Pepsi co, Unilever, Mountain Dew, General Electric. Two questions touched on a point of 'future platforms' and 'what's next' which Gary had just put up this post about 30 minutes before the Q&A kicked off – it doesn't matter what's going to die, what's next – be where your audience is NOW! Yes, keep and eye on things and be ready to shift, but don't expect to be one place forever or take your eye of the now for what's next.
In terms of innovation Gary highlighted a slightly different valuable side than I'm used to seeing. Saying how being first or producing innovation might raise the profile of the brand to customers but also has huge value in those lesser seen areas – attracting talent, people will want to work for you if you're putting out exciting things and also other companies, suppliers or retailers are more likely to want to work with your brand. If you're doing exciting things that are talked about in digital and social with your brand then retailers (and those valuable distribution relationships) might want to get in for a piece of that action.
The best bit about the evening was that I didn't come away feeling like I'd had the obvious stated to me for 90 minutes. Gary is still able to give practical executable advice which is a step ahead of what a lot of brands and agencies are only beginning to pick up. The only repetition from previous books or talks was how he said social media is a marathon not a sprint, there are no quick wins, you have to put in the work to get the results, and that's always worth reiterating for the corner cutters of the industry.
"If I wanted to build the biggest building in the city then I'd build it, I wouldn't tear down the other buildings to make it easier"