The Psychology of Social Currency
Social currency is a term that is gaining popularity in the social media community, but as a concept it is not a new idea. Social currency simply refers to the value that information has when it is shared between individuals, something has a good social currency if people want to continue to share it.
A good example of social currency is gossip, people will share rumours with their friends, who in turn will share with their friends, which is why rumours can spread like wildfire. But the key to understanding social currency is to understand the psychology behind sharing, why do people want to share? Ultimately people share when it benefits them, when they get some personal value out of sharing. The single most important component of social currency is personal value.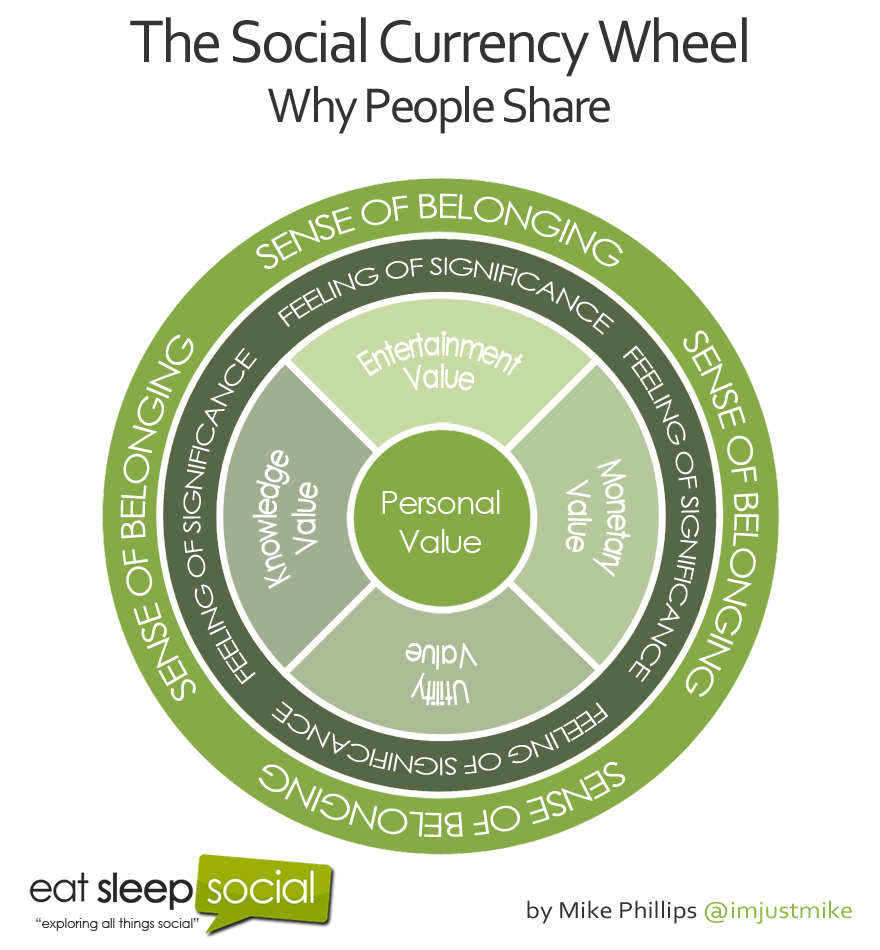 Basic human needs
Personal value itself is typified by fulfilling two basic human needs, the need to belong and the need to feel significant.
Humans are social beings; we are compelled to identify ourselves as belonging to groups of similar people. This need to belong is the most important element of personal value – people share content to show that they belong to a certain group of people. People will join groups on Facebook to show that they belong, quite literally, to that group of people. Just as people will tend to dress themselves according to quite specific social groups, the things we share and advocate are just another way of identifying ourselves with a group.
Within these groups individuals want to feel valued in that group; they want a feeling of significance. People who share content do so to get recognition from others in that group and in doing so give themselves significance. An offline analogy is an individual in a group of friends who always wants to be the one telling jokes; they gain significance by sharing jokes with their friends.
Social currency therefore not only provides value to the end users, but also provide additional personal value as a form of currency when shared.
Four further types of Value
Personal value can be broken down into four further types of value: Utility, Knowledge, Entertainment and Monetary.
Utility
This is literally something useful, be it a piece of useful content such as a "how to" guide or a fully fledged branded utility. Branded utilities are where brands create something that provides a tangible, useful benefit to users, such as banks providing applications that allow users to compare the various interest rates
Knowledge
A different kind of value can be gained when people share knowledge within their group. This can start from people who remind their friends that a mutual friend's birthday is approaching right through to thought leaders in industry, who produce white papers and innovative new methods of working. The personal value is a reward for individuals who share their knowledge; they are valuable members of that community.
Entertainment
Probably the oldest and certainly one of the most common, types of social currency that provides personal value from entertainment is the joke. People tell each other jokes to make members of their group laugh, just as they share funny videos with their social networks and email each other funny pictures. Providing entertaining social currency to your peers gives you significance within your peer group.
Monetary
The final type of value a user can receive from social currency is monetary or financial value. A good example is the online coupons that brands encourage their customers to share with their friends, entitling them to a discount. It is of value not only to the end user, but also to the sharer, as their community gives them kudos for sharing the discount.
Multiplying the effect
These values are not delivered in isolation however, the types of value can be combined to provide stronger social currency, with common examples including useful financial knowledge in the form of "How to live on a budget" guides or entertaining information, which explains why infographics are so widely popular.
At the end of the day, if your brand doesn't have social currency, if the content it produces isn't entertaining or useful, if it doesn't share knowledge or provide a monetary benefit to users then people won't share it. So what social currency does your brand have?
Mike Phillips |