Social Media shifts from Tactics to Strategy
Marketing Sherpa has released a report titled "2010 Social Media Marketing Benchmark report" which details the importance of strategy in social media marketing.
It demonstrates that we are shifting phase in the social media marketing roll out, from the trial phase, where companies dip their toes in the social media ocean, to the strategic phase, where companies begin to integrate social media into to their core business. It is important to note that in the trial phase, companies are concerned with learning what works, largely by trial and error. As we move in to the strategic phase the focus shifts to proving the value of social media activity through quantifiable ROI, among other success measures.
The report shows that the success measure that marketers were most concerned about was simply an increase in web traffic, followed by increased lead generation and sales revenue: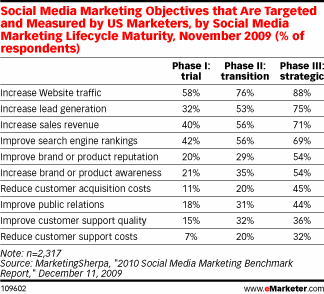 What was interesting is that improving brand reputation and awareness were much lower on the list, coming in 5th and 6th respectively. Even lower on the list were improving public relations and customer support.
The reason for this is obvious, these objectives are much harder to track and measure, as the report points out, when selecting objectives it is essential to be able to ties them to metrics:
Defining specific objectives for a social marketing initiative is only half the battle. The other half is aligning those objectives with corresponding metrics. This alignment is important because it enables an organization to measure its progress in achieving the objectives and proving ROI.
Sources: eMarketer and Marketing Sherpa